As related to my last post on my trip to Richmond, VA - one of my main reasons for this trip was to stop by the
Petersburg National Battlefield
.
Freeman J. Hunt
About 1884
Back in early 2016 I ran into a treasure trove of information about my 3rd great-grandfather, Freeman Hunt when I visited the Fenton History Center in Jamestown, NY. You can read that post
here
. And one of the things I learned was that he was at Petersburg.
If you have any ancestors who fought in the Civil War, if you haven't checked out the
National Parks website database of Civil War Soldiers
I recommend it because it can give you information about the unit(s) they were with and then you can click on further links to find out where those units fought.
Detail from NPS Civil War Soldier Database for Freeman Hunt
With this information, you can order the full service records which are housed at the
National Archives
(I ordered mine a few days ago). Another excellent use of this information is to have a chat with the excellent rangers at these battlefield parks.
At the Petersburg Battlefield Park, they had notebooks of information about where in the park various regiments were, what battles they took part in (Petersburg lasted several months so there was a lot going on there). Sometimes they might not know the exact locations but can give you a general idea of where they probably were. Which is exciting if you like following in your ancestors footsteps.
From Petersburg Battlefield Notebook
Red text notes are my personal notation.
From the information I found from my Jamestown, NY research trip, I knew that Freeman Hunt mustered out on June 20, 1864 so he actually wasn't in Petersburg for very long so he wasn't at Jerusalem Plank Road or Peebles Farm. And from June 15-18, they pretty much were just hanging out as reserves and building earthworks since most were mustering out in a few days and were VERY motivated to stay alive. The photo below is from the National Archives, I don't know what group but I'm sure it would have been a familiar situation for my ancestor.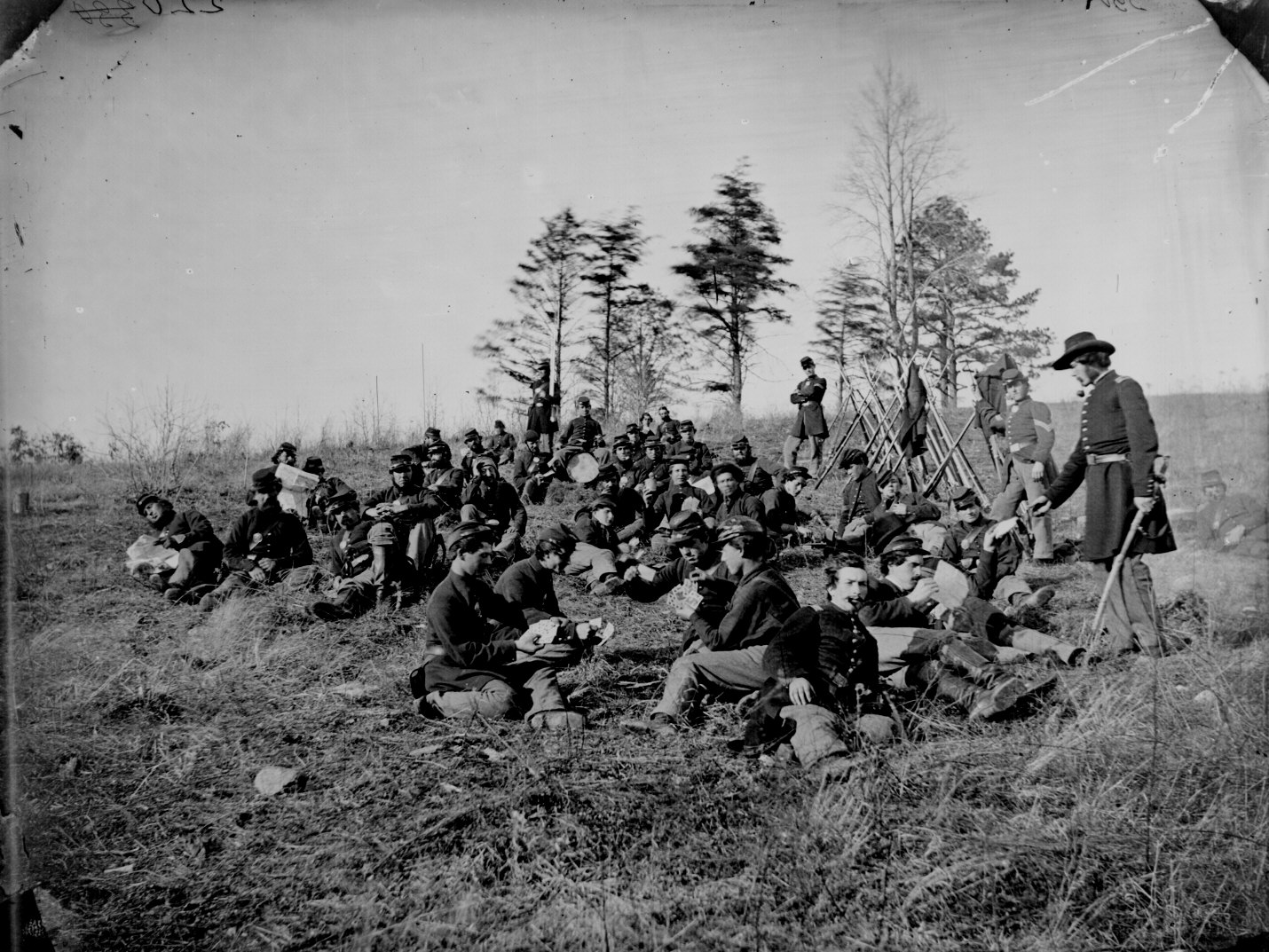 Soldiers at rest after drill, Petersburg, Va., 1864. The soldiers are seated reading letters and papers and playing cards.
111-B-220. National Archives Identifier: 524639
[1]
I am also lucky that there is a book written,
The 72nd New York Infantry in the Civil War: A History and Roster
by Rick Barram, which if you have any ancestors who fought with this group, I recommend because it has a lot of info (which I should have referenced more before my Richmond trip - but more on that later). The author describes their experiences at Petersburg:
With enlistments in the 72nd expiring, it was probably a miracle Leonard and the other officers could get the boys to load a rifle, let along fight, as most were going home in just a few days and no one wanted to be wounded or killed this late in the game. All were filthy and spent. Perhaps a few dozen men in the whole army had gotten to bathe back at the North Anna, but chances were it was none of these boys. They wore the same clothes as when they had stepped off from Brandy Station seven weeks earlier. But there was some consolation: by the 18th, the supply situation had been resolved and the men finally enjoyed fresh rations. Skirmishing proceeded all day on the 19th and 20th.... On the evening of the 20th, the 72nd was pulled out of the line and replaced by elements of the IX Corps. The New Yorkers marched nearly the entire next day, going into line of battle near the Weldon Railroad. Nothing came of the 72nd's move to the Weldon Railroad, and as it would turn out, this was the last time the 72nd would go into line. With its term of service expired, the regiment was relieved from the front on the morning of the 22nd, going to the rear to be mustered out.

[2]
When I visited the battlefield, the ranger directed me to an area, currently across from a small picnic spot which he thought was probably the area where the 72nd was during these few days in June. We aren't certain, but it is a decent guess - and a better guess than I could have made on my own. I snapped a photo - the tree growth is all newer since most trees that were there at the time had been used for building materials (if you notice the photo above, while I don't think is this area, has very few trees for reference).
Photo taken on September 4, 2017
I'll go more into the details of Freeman's Civil War stories. It's kind of odd that I'm starting his stories at the end of his service, but that's where I am starting myself. He was in a lot of important battles of the Civil War and his Company B returned with only a small portion of the men who had left three years before.
I am uncertain what newspaper this clipping is from, it is from the Company B Scrapbook
in the Archives at the Fenton History Center.
[1] "Soldiers at rest after drill, Petersburg, Va., 1864." 111-B-220. National Archives Identifier: 524639, Pictures of the Civil War:
Select Audiovisual Records at the National Archives,
National Archives at
College Park, College Park, MD, https://www.archives.gov/files/research/military/civil-war/photos/images/civil-war-002.jpg, accessed September 12, 2017.
[2] Rick Barram, The 72nd New York Infantry in the Civil War: A History and Roster (Jefferson, North Carolina: McFarland & Company, Inc., Publishers, 2014), 309, accessed September 12, 2017